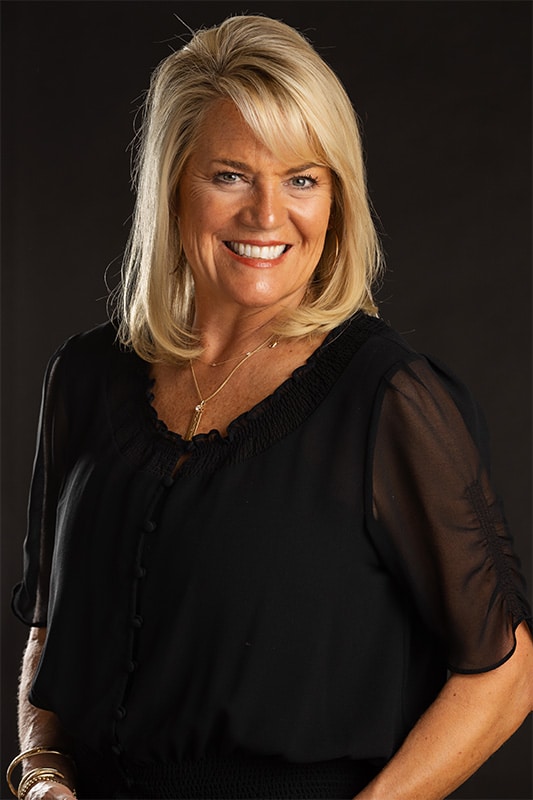 Dr. Kelly Hamblen Robinson was born in Hereford, Texas, in 1966. She and her family moved to Muleshoe, where she was raised and graduated in 1984. Kelly was involved in various school activities—athletics and drama (she was in the State All-Star Cast in 1983) and was the Mighty Mule Mascot her senior year! She attended Texas Tech University and graduated Summa Cum Laude in 1988. After marrying in 1986, Dr. Robinson had her first beautiful boy, Jonathan Vela, in September 1988. Jonathan is now living in Nashville with his wife, Kaylee Kitten Vela.  
Dr. Robinson started dental school at Baylor College of Dentistry in 1989 and graduated as a third-generation Baylor Dental grad in 1993. She joined her Mom and Dad in Lubbock, Texas, as Dr. Hamblen's associate. She married her wonderful husband, Wesley, in August 1999—then, the next year, bought her Dad's practice and built a new dental office building. She has not looked back!
Dr. Robinson has continued the legacy her parents built in the practice–excellence in customer care, complete comprehensive dentistry, and life-long learning. She has studied comprehensive dentistry with leaders in the industry: Dr. Peter Dawson, Dr. John Kois, Seattle Study Clubs, and Spears Educational Center. Dr. Robinson built on her father's skills and found particular interest in full mouth rehabilitation and cosmetic dentistry. She works with specialized labs with similar philosophies regarding full mouth rehabilitations and cosmetic dentistry. Dr. Robinson has also studied bioregenerative dentistry using composite filling material for a conversative approach to restoring teeth. This method allows more tooth structure to be saved in both restorative and cosmetic cases. This is case selective and technique sensitive , and she is excited to offer this to her patients. She is an active member of the Texas Dental Association, the American Dental Association, the Academy of General Dentistry, and the South Plains District Dental Society. She has served in a variety of roles with both the South Plains District Dental Society and the Texas Dental Association. She has also served as a mentor with the Baylor University College of Dentistry.
Dr. Robinson is also committed to complete health dentistry and has studied preventative health care under Dr. Bradley Bale and Dr. Amy Doneen. She is a preceptor for the Bale/Doneen Method and uses bacterial testing in her practice as a part of preventative care. She is also certified to treat sleep apnea using sleep appliances. She studied extensively under leaders of sleep dentistry: Dr. Gelb, Dr. Tucker, Dr. Prehn, and Dr. Simmons. Dr. Robinson's goal is to care for her patients through all aspects of oral health! Along the way, she has also acquired the practices of Dr. John Sparling, Dr. Barrey Curry, and Dr. John Best in Snyder.  
She is also actively involved in her church and community. Dr. Robinson and Wesley have been First United Methodist Church members for 21 years and were married in the church. Together they have taken many mission trips to Mexico, Guatemala, and Haiti. Dr. Robinson performed dentistry and dental education in each of these locations. Together they have taken over 15 mission trips and continue to do projects through the church with missions and outreach. Dr. Robinson has also been involved with the American Diabetes Association, holding various offices over the years, including chairing the annual Walk for Diabetes. She has been involved with many local charities, schools, and charitable dental events, such as serving on the Lubbock Symphony Board and the All-Saints Episcopal School Board. Giving back is such a motivating factor for Dr. Robinson and her team.
At home, Dr. Robinson's family also continued to grow; she and Wesley had Charlie in 2002 and Jack in 2006. Both boys are active in school, sports, and all outdoor activities—keeping up with these two takes an all-out effort! Wesley also owns a computer IT company–IAG. Fortunately, the business emphasizes dental practices, making Dr. Robinson's life all the better!